Boating Accident Attorney
Boat Injury Law Firm for Ellijay, Blue Ridge, and Dalton
Georgia boating safety info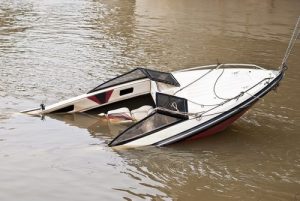 Many Georgia residents enjoy boating when the weather is nice. However, any time you are on the water, there is a risk that you will be involved in a boating accident.
Boating accidents are common on North Georgia's waterways. Although most are minor and result in nothing more than a few bumps and bruises, others are completely devastating.
Serious boat damage can occur, and boaters can be severely injured or even killed in a boating accident.
What Causes Boating Accidents?
There are numerous reasons that a boating accident occurs; however, many of them are preventable. The most common causes of boating accidents in Georgia include but are not limited to:
Boating under the influence of alcohol
Insufficient training and/or experience with boating
Failure to be aware of or pay attention to surroundings when boating
Reckless behavior of passengers
Failure to yield to other watercraft operators
Boating in poor weather conditions
Failure of equipment
Boating in hazardous waters
Using excessive speed when boating
In many cases, there are multiple factors that contribute to a boating accident, such as operating a boat under the influence of alcohol while in dangerous weather conditions.
Getting the Help You Need After a Boating Accident:
If you or a loved one have been involved in a boating accident, you may be unsure of what your next step should be.
While getting immediate medical care if necessary is the most important thing you need to do following an accident, determining the cause of the accident and whether or not you have a case is also critical.
At Appalachian Injury Law, we can assist you in:
getting the medical care you need
contacting and communicating with insurance companies
gathering critical evidence to support your case
We have a solid track record of success in boating accidents and will be able to apply our expertise and resources to your case.
Our goal is to provide you and your family with the compassionate, yet aggressive, representation you need after a life-changing boating accident.
Contact Appalachian Injury Law Today:
If you or a loved one have been involved in a boating accident in Georgia, it's important that you contact an experienced boating accident lawyer immediately.
Don't wait — the success of your case depends greatly on being able to gather crucial evidence soon after the accident. Reach out to the dedicated boat crash attorneys at Appalachian Injury Law today to discuss your case and to learn more about how to get the financial compensation you need to overcome the accident and move on with your life.
Call (706) 515-1995 or toll free at (800) 393-8595 now
Fill out the quick contact form below now