Appalachian Injury Law
Personal Injury
Personal Injury Attorneys Serving Ellijay, Jasper, Blue Ridge, Blairsville, Chatsworth, Dalton, and the entire North Georgia Mountains region.
If You've Been Seriously Injured In An Accident, Now Is The Time To Fight For Every Dollar You Deserve!
Quick Links on Page:

After The Accident
Dealing with the aftermath of an accident can be very challenging and upsetting –especially if you or a loved one have been seriously injured or killed due to someone else's negligence.
In addition to the physical pain and emotional distress you have to endure, you may also worry about your financial health and wonder how you will keep up with your medical expenses.
Your situation can become even more dire if your injury prevents you from returning to work. The inability to earn a steady income can put your livelihood at risk.
As a personal injury victim, the law states that you have certain rights, but unfortunately an at-fault party's insurance company and lawyer can make it very difficult to recover the monetary damages you are entitled to. They will do everything they can to downgrade your injuries, blame you for the accident, even deny your claim altogether.
Finding the right personal injury attorney who can protect you from unfair tactics used by insurance adjusters and opposing attorneys can be the difference between receiving maximum compensation or enduring financial ruin.
Appalachian Personal Injury Law Group, Appalachian Injury Law
A Solid Track Record of Winning Settlements And Verdicts
For more than 30 years, Appalachian Injury Law has helped personal injury victims throughout North Georgia recover the maximum amount of compensation available under the law.
To date, we have recovered $150 million on behalf of our clients.
Our record-breaking jury verdicts and overall success rate in the courtroom has earned us a reputation as one of the region's preeminent personal injury law firms.
Part of the reason we're so successful is that we have assembled a stellar group of professionals who have dedicated their lives to helping those in need, including:
distinguished attorneys
investigators
insurance claims analysts
paralegals
law clerks
support staff
When you become our client, we treat you like a member of our own family. We understand that this is a very difficult time in your life and we want to be your advocate and support system. You will be treated with the utmost compassion, dignity, integrity and respect.
Don't waste another sleepless night worrying about about how you're going to afford the medical care you need.
Call Appalachian Law today to schedule a Free consultation with one of our skilled and experienced accident attorneys.
If you retain our services, we work on a contingency fee basis, which means that you won't be expected to pay upfront for any out-of-pocket costs.
We don't get paid unless you win.
Wide-Ranging Expertise in All Areas of Personal Injury Law
At Appalachian Injury Law, we handle personal injury cases resulting from a variety of accidents including:
Auto accidents
Trucking accidents
Motorcycle accidents
Pedestrian accidents
Boating accidents
Premises liability
Dog bite accidents
Product liability
Slip and fall accidents
Wrongful death
Injuries Commonly Caused By Accidents
Because we deal exclusively in personal injury, we've seen every type of injury there is and understand the devastating effects it has on victims and their families.
Our clients have suffered from the following injuries:
soft tissue injuries
whiplash
neck, back or spinal cord injury
traumatic brain injury
paralysis
burns
loss of limb, amputation
broken bones
Appalachian Attorney For Personal Injury Compensation
Compensation in Personal Injury Claims
Depending on the type and severity of your injuries and who was at fault in the accident, you may be able to recover the following:
Reimbursement for medical treatment and lost wages
Reimbursement for damage to or loss of use of property that occurred as a result of the injury
Loss of consortium (loss of services of your spouse: income, companionship, child care, etc.)
Money for emotional distress and/or pain and suffering
Injury to reputation
Punitive damages (may be awarded when the behavior of the person that injured the victim was malicious, fraudulent, oppressive, or willful)
Time Limits for Personal Injury Claims in Georgia
In Georgia, there is a statute of limitations which applies to personal injury claims. This means that you must file a lawsuit within a specified time frame or you lose your right to recover compensation for your injuries.
Most personal injury claims need to be filed within two years of the date of the accident.
After You Are Injured
Being in an accident is a scary experience. Although it may be difficult to remain calm after such a harrowing event, there are certain things you can do following an accident to protect your rights and strengthen your case.
The decisions you make and the way you decide to handle things can have a direct impact on the care you will receive and the amount of compensation you can secure.
Stay at the scene
Call local law enforcement or 911
Take care of your injuries immediately

Describe to your healthcare providers how, when and where your accident
happened. Tell your physicians about how you felt immediately following the accident.
The more detailed you can be about your aches and pains, the more notes your doctor will have on record.

Ask that a police report be filed
Document all your injuries and damage to your property
Preserve the evidence

request a copy of the accident report
keep track of your medical treatment, including receipts and invoices
keep track of time taken off from work for proof of lost wages

Gather contact information from all parties involved, including witnesses (phone numbers, addresses, exchange insurance information)
Inform your insurance company that you have been in an accident, and stick to the facts
Inform the other person's insurer, letting them know that you have been involved in a crash with one of its policyholders
Obtain a property damage valuation from your insurer
Contact an attorney (we generally advise you do this before you talk to an insurance adjuster so we can advise you of your rights)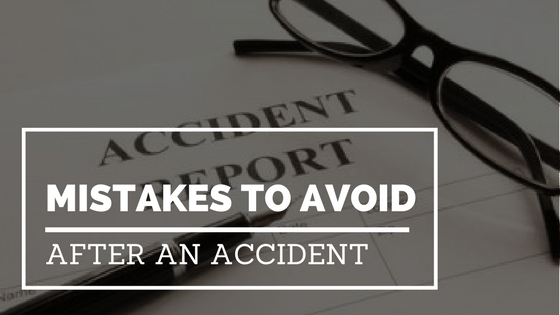 Avoid These Mistakes
Do not flee the scene
Don't delay medical treatment
Don't engage in discussions regarding who was at fault; do not apologize for anything
Don't try to negotiate directly with the person who caused the accident
Don't give your insurance company certain information, such as the extent of your injuries
Don't give a recorded statement to the insurance company without talking to a lawyer. Anything you say can be used against you later. For example if you say your neck and back hurt but the next day the pain spreads to your leg, the insurance adjuster will claim that at the time you never mentioned anything about leg pain, therefor it wasn't caused by the accident.
Don't accept a settlement offer without talking to a lawyer
Do not sign a medical release form without talking to a lawyer
Don't post any pictures or comments about your accident on social media networks
Don't miss any doctors appointments
Leveling The Playing Field With The Insurance Company
Insurance adjusters are not your friends! This may sound harsh, but it's important to remember that insurance companies are multibillion dollar corporations that are in the business of making a profit. They do this by minimizing their payouts to policyholders like yourself.
An adjuster will often try to offer you a quick settlement in the hopes that you won't hire
a lawyer to pursue more money.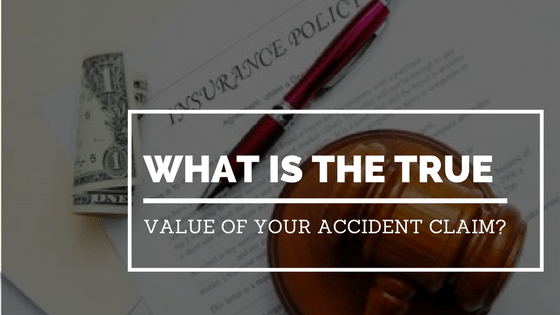 The truth is, you have no way of knowing the true value of your claim immediately following your accident.
Insurance adjusters know this and will try to take advantage of you by offering you a low-ball settlement.
Having a qualified and formidable personal injury attorney by your side can put you on equal footing with the insurance company.
When you hire an attorney, you are letting the insurance adjuster know that you mean business and you will not accept anything less than what you deserve.
The personal injury attorneys at Appalachian Injury Law have successfully gone toe-to-toe with insurance companies for 30 years. We have extensive experience negotiating fair settlements that our clients were very happy with.
If the insurance company agrees to settle, then you will receive a check to cover your bills and other expenses related to your injury. If they refuse to settle or disputes your side of the story, we will not hesitate to aggressively litigate for you in court.
Determining Negligence
If your injuries were caused by negligent actions, we will need to prove that they are in fact liable. Sometimes, the negligent party will try to prove that you bear some responsibility for the accident as well.
To determine fault, Georgia uses a legal doctrine called modified comparative negligence. Within the doctrine there is a 50 percent Bar Rule which means you cannot recover damages if you are 50 percent or more at fault.
If you are determined to be less than 50 percent at fault, you can recover damages but your damages would be reduced by your percentage of fault.
For example, if it's decided that you should be rewarded $200,000 and you are found to be 25% at fault, you would receive $75,000.
Negligence in Motor Vehicle Accidents (Auto, Truck, Motorcycle)
A driver of a motor vehicle has a duty to operate his/her vehicle safely to prevent harming others. If a driver breaches this duty, they may be held liable. Examples of negligence in motor vehicle accidents may include:
Driving under the influence of alcohol and/or drugs
Distracted driving: texting, talking on phone
Speeding
Failure to obey traffic laws
Unsafe lane change
Driver fatigue
Manufacturing defect
What if I Was Hit By An Uninsured or Underinsured Driver?
If you were hit by an uninsured driver, the first thing we will do is review the declaration page of your automobile insurance policy to determine the types of coverage you have and the limits of coverage for each type of potential loss.
If you have uninsured motorist coverage, then your insurance provider will cover your losses.
If you were hit by an underinsured driver, meaning their insurance policy cannot adequately cover your losses, you would take the amount they do have available and "stack" it with yours to make up the difference.
Appalachian Injury Law Settlement Victories for Vehicle Accidents
Automobile Accident: $450,000
Tractor Trailer: $3,500,000
Tractor Trailer Accident – $924,000
Tractor Trailer Accident – $657,000
Negligence in Premise Liability/Slip and Fall Case/Dog Bite
A property or business owner has a duty or responsibility to keep their premises free from any known hazards that could harm someone. If you were injured on someone else's property we would need to prove:
the property or business owner should have known about the dangerous condition
the property or business owner knew about the dangerous condition and failed to repair or fix it
the property or business owner caused the hazardous or dangerous condition
Appalachian Injury Law Settlement Victories for Premise Liability
Premises Liability – Wrongful Death – $750,000
Product Liability
If you have suffered an injury due to an unsafe or defective product, you may be eligible
for compensation.
A manufacturer, distributor and seller of a product all have a legal duty to produce and sell products that are safe and do not pose harm or risk to the end consumer.
Product liability can be proven if there is evidence of a:
Warning Defect: The product lacked sufficient warning labels or instructions, and these defects caused your injuries
Manufacturing Defect: The product was manufactured or produced wrong
Design Defects: Product was defective from the beginning, even before it is manufactured, in that something in the design of the product is inherently unsafe.
Breach of warranty
Appalachian Injury Law Settlement Victories for Product Liability
Pharmacy Malpractice: $850,000
Contact Us Today!
Reach out to the dedicated personal injury attorneys at Appalachian Injury Law today to discuss your case and to learn more about how to get the financial compensation you need to overcome your injuries and move on with your life.